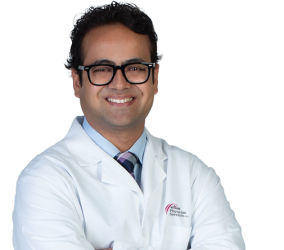 Chhabindra Nepal, MD
As a pulmonologist and critical care specialist, Dr. Chhabindra Nepal specializes in the diagnosis and treatment of pulmonary diseases, including asthma, emphysema, chronic bronchitis/COPD, lung tumors and lung cancer, lung infections and pneumonia, various interstitial lung diseases (such as Farmer's Lung), and pulmonary hypertension.
Dr. Nepal attended medical school in Nepal. He then moved to the United States where he completed his residency at a community hospital in Brooklyn, New York. Next, Dr. Nepal pursued his pulmonary and critical care fellowship at the University of Kentucky in Lexington.