History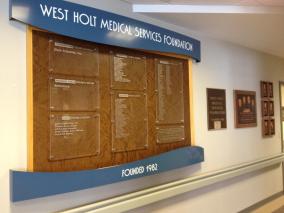 Our Foundation began in 1982 with the goal of creating a source of funding to support a thriving hospital.
Mission: To obtain, invest and distribute funds which will advance and improve the quality of care provided by West Holt Medical Services.
Vision: The Foundation will be the area leader in funding healthcare by raising funds, increasing awareness and providing education. The Foundation shall develop a long lasting relationship with our donors, their families and our communities by providing opportunities to share their dream.
Values
The West Holt Medical Services Foundation holds these values to be fundamental:
Longevity: The Foundation will ensure services will be available for many years to come.
Integrity: The Foundation will ensure that all funds and assets are invested and distributed according to our mission and investment policies.
Community Service Education: The Foundation will be a leader in educating the community on the importance of philanthropic support.
Growth: The Foundation will continually increase its support in capacity to meet the needs of West Holt Medical Services in North Central Nebraska.