Patient Resources
West Holt Medical Services is proud to offer the following resources to our patients and their families.
Language Assistance
West Holt Medical Services will take reasonable steps to ensure that persons with Limited English Proficiency (LEP) have meaningful access and an equal opportunity to participate in our services, activities, programs, and other benefits. West Holt Medical Services utilizes Stratus Language Interpreting service that is available to patients free of charge to assist with communication during your visit.
Patient Rights & Privacy
West Holt Medical Services is required by law to maintain the privacy of your medical information and to provide you with notice of our privacy practices and your rights as a patient.
Medical Records
Authorization for Release of Health Information Form - English
Authorization for Release of Health Information Form - Spanish
Financial Assistance
Consistent with its commitment to deliver compassionate, high quality, affordable health care services, West Holt Medical Services strives to ensure that the financial capacity of individuals needing health care services does not prevent them from seeking or receiving care. The following documents and links outline West Holt Medical Services' charity care, collection policy, financial assistance and standard charges.
Charity Care Policy
Charity Care Application
Collection Policy
Financial Assistance Policy - Plain Language Summary
Financial Assistance Policy
Comprehensive Machine Readable List of Standard Charges for All Items and Services
MyLoans Payment Plan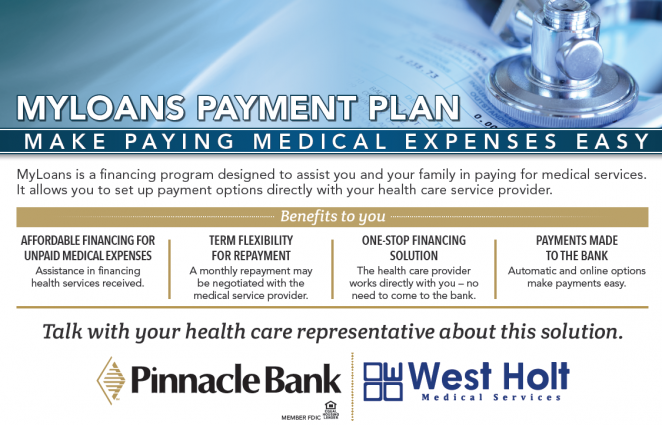 Advance Directives
An Advance Directive is a written statement of your choices for medical treatment. You may name someone to make choices for you in the event you are unable to make your own decisions. An Advance Directive only goes into effect when you cannot voice your wishes.
The two main types of advance directives are:
Living Will: A legal document in which you specify what actions should be taken for your health if you are no longer able to make your own decisions.

Healthcare Power of Attorney: In a Power of Attorney (POA) document, you name another person to act as your "attorney-in-fact" or your "representative." This person will make decisions for you if you become unable to make them for yourself. Your POA cannot be a member of your healthcare team unless he or she is a family member.
Patients admitted to West Holt Memorial Hospital will receive information designed to help them understand their choices in advance directives. You may wish to discuss these matters with your family, close friends, clergy, doctors and attorneys before deciding your preference.
If you wish to complete an advance directive, West Holt Medical Services can assist you at no charge. Contact our Social Worker Nikki Cook at (402) 925-1966 for assistance.
Nebraska State Immunization Registry
Families and individuals may use the Nebraska State Immunization Registry to view and print their immunization records.