Construction Begins on WHMS Specialty Clinic, Foundation Awards $357,000 Towards Project
ATKINSON, NE — When patients or visitors come to West Holt Medical Services over the next 22 months, they will see the sights and sounds of progress being made on the hospital's $4.2 million renovation and expansion project.
Phase 1 of the project was completed in the fall of 2018 which involved relocating the board room and updating the business office area.
Phase 2A began in June, which involves renovating the old administration offices near the hospital's front entrance to house five new specialty clinic exam rooms, a stress testing room, and offices for visiting specialists and staff.
West Holt Medical Services currently conducts specialty clinics in inpatient rooms that are designed for patients staying overnight at the hospital. Patients check in at the front of the hospital and proceed to the very back of the facility, which is difficult for some elderly and less mobile patients.
Current specialty clinics include: Cardiology, Diabetes Education, Dietician, Endoscopy, Foot & Ankle, General Surgery, NUCCA Chiropractic, Behavioral Health (added in 2016), Ear, Nose, Throat and Nerve Pain Services (added in 2018).
The new specialty clinic space will give West Holt Medical Services the ability to continue expanding its services, recruit healthcare professionals to the area, retain jobs and meet the healthcare needs of the region it serves.
"Our USDA Architect told us that construction is like surgery – short term pain for long term gain," shared Jeremy Bauer, Interim CEO and Director of Finance at West Holt Medical Services.
Although some areas of the facility may be temporarily closed during the construction project, the result will be a new specialty clinic, laboratory, central bath, surgical suite addition and administration offices.
The anticipated construction schedule is as follows:
Phase 2A: Specialty Clinic, Nursing – June 2019 to December 2019
Phase 2B: Surgical Suite Addition – January 2020 to October 2020
Phase 2C: Laboratory – November 2020 to March 2021
Phase 2D: Administration/Business Office – April 2021 to June 2021
To financially assist the hospital in the project, the West Holt Medical Services Foundation recently presented a check in the amount of $70,000. Since the Foundation's "Ensuring Quality Care Close to Home" capital campaign began in 2017, they have awarded the hospital $357,000 towards their renovation project.
More details will be communicated as construction continues at West Holt Medical Services.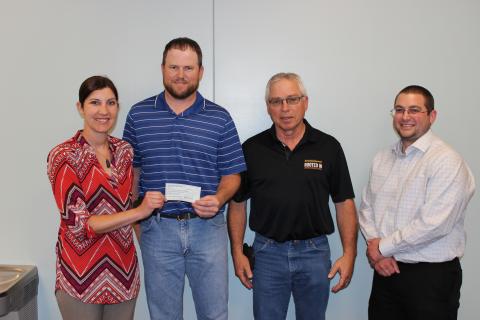 Pictured (l-r): Jessica Prussa, WHMS Foundation and Marketing Director, presents a check for $70,000 to West Holt Memorial Hospital board members Trent Schaaf and Jack Wolf and Interim CEO Jeremy Bauer at the June 24 board meeting.