Hospital Earns ACR Accreditation in 3D Mammography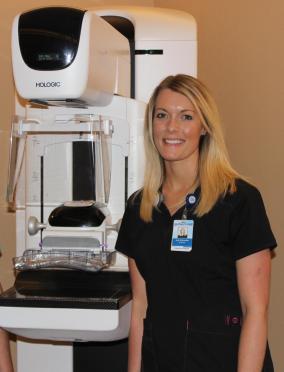 ATKINSON — Women who receive a mammogram at West Holt Memorial Hospital can be confident they are receiving the highest level of image quality and safety in their examinations, as the hospital was recently awarded a three-year term of accreditation in 3D mammography from the American College of Radiology (ACR).
Mammography is a specific type of imaging test that uses a low-dose X-ray system to examine breasts. Mammograms are used to aid in the early detection and diagnosis of breast disease in women. West Holt Memorial Hospital has offered 3D Mammography with SmartCurve™ technology since August 2019.
"It's exciting to be the first in the region to offer the SmartCurve breast stabilization system, where it's built for the shape of a woman, making their experience more comfortable. We have already received very positive feedback and look forward to continuing to give the best breast care to our patients," shared Certified Mammography Technician Jodi Schroeder.
Schroeder has worked at the hospital since April 2018 and was instrumental in helping the hospital achieve ACR accreditation.
The ACR accreditation is considered the "gold standard" in accreditation. It is awarded only to facilities meeting ACR Practice Parameters and Technical Standards after a peer-review evaluation by board-certified physicians and medical physicists who are experts in the field. Image quality, personnel qualifications, adequacy of facility equipment, quality control procedures and quality assurance programs are all assessed as part of the accreditation process.
The findings are then reported to the ACR Committee on Accreditation, which subsequently provides the practice with a comprehensive report that can be used for continuous practice improvement.
To schedule a 3D Mammogram at West Holt Memorial Hospital, call 402-925-2811. Click here for more information about 3D Mammography with SmartCurve technology.