COVID-19
News Releases:
WHMS has Coronavirus Preparedness Plan (3/9/20)
WHMS and GSFH Increase Screening Precautions for COVID-19 (3/13/20)
COVID-19 Response Update from WHMS (3/23/20)
WHMS Postpones Nonessential Procedures (3/30/20)
WHMS Updates Visitor Policy, Homemade Gowns and Caps Needed (4/6/20)
WHMS Gradually Resumes Specialty Clinic Services (5/11/20)
The health and well-being of our patients and employees is our number one priority. That's why our healthcare team is actively monitoring the situation. We believe in proactive planning and preparedness. Prevention is our best defense.
West Holt Medical Services (WHMS) has been closely monitoring updates on the coronavirus COVID-19. A Coronavirus Preparedness Plan has been developed based on recommendations from the Centers for Disease Control (CDC), American Hospital Association and other Nebraska hospitals.
The Infection Prevention Coordinator and the Senior Leadership Team receive daily updates and protocols from the CDC and North Central District Health Department (NCDHD) to ensure WHMS remains current with prevention and treatment recommendations for persons with COVID-19.
To ensure that we are prepared and maintaining the health and well-being of our patients and employees, the following precautions have been implemented at the WHMS.
Screening Precautions
You will notice additional signage throughout the facility to remind visitors and patients to be aware of their symptoms and to call us before entering the facility if they have a fever, cough or sore throat. Individuals who come to WHMS will be asked a series of questions to determine if they have signs, symptoms, or indicators associated with COVID-19.
If you are experiencing signs and symptoms of COVID-19 or have traveled to an area of known COVID-19 exposure, call WHMS at (402) 925-2811 (option 2) prior to coming in to our facility. Our trained staff members will guide you from there.
Homemade Masks, Gowns and Caps Needed
WHMS continues to be diligent in ensuring the hospital is fully resourced to take care of the community. Due to the COVID-19 outbreak, there is a nationwide shortage of Personal Protective Equipment (PPE). WHMS is not out of PPE, however they want to ensure an ample supply is in stock should it be needed.
Local community members have come forward asking how they can help. The community can play a part in helping WHMS conserve PPE by donating homemade masks, gowns and/or caps.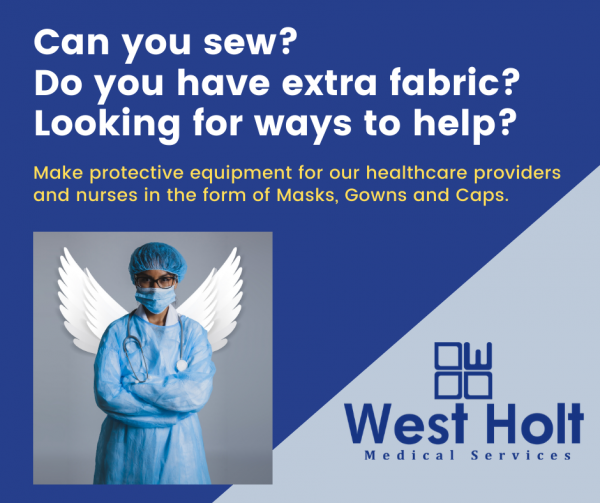 WHMS is currently accepting hand sewn masks, gowns and caps, or donations of cotton or cotton/polyester blend fabric in at least 2-yard lengths, new or gently worn bedsheets, as well as elastic, bias tape and thread. Each isolation gown requires approximately 4 yards of fabric.
Donations may be dropped off at the Therapy Services building south of West Holt Hospital at 406 West Neely Street in Atkinson, Monday through Friday 8:00 a.m. to 3:00 p.m.
For more information on donating gowns and caps to WHMS contact volunteer coordinator, Karen Nollette at (402) 340-2575.
Masking Policy
All patients, visitors and vendors will be required to wear a mask while inside the WHMS facility. Individuals may use their own mask, or one will be provided when they arrive. To preserve the supply of masks, frequent visitors will be asked to keep and reuse their mask. WHMS continues to perform screening precautions on all who enter.
Visitor Policy
Visitors are limited to one adult (18 years of age or older) per patient at a time. This includes visitors accompanying patients to the emergency room, clinics and hospital inpatient areas.
Facility Changes
WHMS has worked to reconfigure its facility to separate well patients from those with respiratory illnesses. When patients call in to schedule an appointment, they will be directed to one of three entrances on the WHMS campus based on their symptoms.
Nonessential Procedures / Elective Surgeries
We have temporarily postponed all elective surgeries and nonessential procedures at this time. WHMS will allow procedures and surgeries for patient's whose condition is emergent or urgent as determined by their medical provider.
Specialty Clinic Visits
Beginning May 12, WHMS will be gradually resuming some in-person specialty clinic appointments. Telehealth visits are also being offered for certain services. Anyone with questions about an upcoming appointment or procedure at WHMS should call (402) 925-2811.
Staffing
To protect its healthcare workforce, WHMS has diligently worked towards getting as many of its staff members set up to work from home. Beginning Monday, April 6 fewer employees will be working on the WHMS campus.
Retail Pharmacy Changes
The Retail Pharmacy is not offering walk-in services at this time. Please use our drive thru option to pick up your prescriptions. We also offer free prescription delivery for home-bound patients in Atkinson and prescription mailing services. If you need over-the-counter medication or supplies, please call ahead to check on availability.
3 easy ways to refill your prescriptions:
1. Online
2. Rx2Go app for your mobile device (easiest and fastest)
3. Call in your refill at (402) 925-2651
Our voice and text reminders will notify you when your prescriptions are ready. Use our convenient drive-up window located at 313 W Pearl Street in Atkinson to pick up your medication. Drive-thru hours are Monday–Friday, 8:30 am – 5:30 pm.
For more information and resources regarding COVID-19 visit:
Center for Disease Control and Prevention (CDC)
North Central District Health Department (NCDHD)