Cook Honored with NHA Caring Kind Award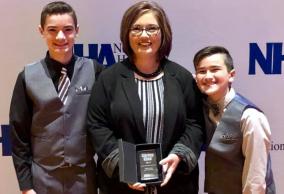 LA VISTA, NEB. — The Nebraska Hospital Association (NHA) recognized more than 60 hospital employees October 18, 2019, for their excellence in service by bestowing them with the organization's prestigious "The Caring Kind" award.
Nikki Cook of West Holt Memorial Hospital was among those honored at The Caring Kind Awards Luncheon held at Embassy Suites Omaha-La Vista Hotel & Conference Center in La Vista.
For 40 years, The Caring Kind award has been given to Nebraska's most caring and compassionate hospital employees. More than 2,400 caring, skilled and dedicated healthcare professionals have received this award since its inception in 1979.
Each year, hospitals from across the state each select one employee from their facility to be recognized for the award. The award honors outstanding health care employees who have demonstrated compassion for patients, cooperation with co-workers and dedication to excellence in their job responsibilities.
Cook has worked in the Social Services Department at West Holt Memorial Hospital since 2014. She was nominated for the award by three of her co-workers who shared these kind words.
"Nikki is one of the most kind-hearted people I have ever met. She takes time to talk to staff and patients alike to check on their well-being. When we are busy, Nikki is one of the first people who will ask 'what can I do to help', which I appreciate so much! She is always there to support us all. You rock Nikki," shared Jessica Raymer.

"Nikki is the most upbeat and positive person I know which reflects the exceptional care and resources she provides for our patients. Most of the work she does is very behind the scenes and therefore people do not realize the countless hours she spends on ensuring patients have the appropriate resources inside and outside the healthcare system. She has had a lot of challenges placed in front of her, but you always see her smiling and laughing no matter what. She is our go-to person for Medicare/Medicaid questions as well as discharge planning resources, as she has a ton of knowledge with these topics. Nikki is always the first person to put others needs before her own. Her inner strength is admirable! Nikki is a team member who always goes above and beyond her duties in pursuing excellence," shared Jessica Thomassen.

"Nikki is such a caring and compassionate person. She is always willing to lend a helping hand whether it is answering the phone, making phone calls, or making special deliveries for our staff. The patients like Nikki as she is easy to talk to and lets patients know what resources are available to them. She goes out of her way to help patients get what they need. She has even driven to O'Neill to get an item that a patient has needed before. She can always make you smile with her pleasant attitude and good-natured jokes," shared Shauna Slaymaker.
Please join West Holt Memorial Hospital in congratulating Nikki Cook as their 2019 The Caring Kind award recipient.