Langan Presents Three $10,000 Donations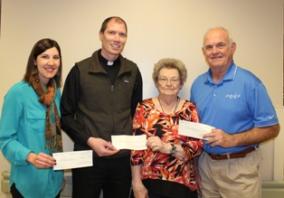 In honor of St. Patrick's Day, Phyllis Langan presents checks for $10,000.00 each to West Holt Medical Services Foundation, St. Joseph's Catholic Church and The Atkinson-Stuart Country Club as requested by her late husband Joe Langan.
Joe was not a native of Atkinson but in the 51 years he lived in the community it became of utmost importance to him. The three entities represent the major facets of his life well lived.
His dedication to his profession of pharmacy, his strong faith and his social and entertaining side will be well remembered by all who knew him. He was a proud Irishman as well as quite "Scotch" in his spending habits which enabled these gifts.
It was his hope that the people of Atkinson will continue to enjoy the benefits of these organizations for many years to come.