West Holt Memorial Hospital Celebrates National Hospital Week, May 6-12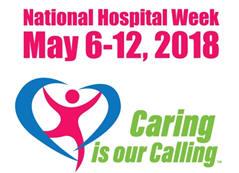 A hospital is more than a place where people go to heal, it is a part of the community that fosters health and represents hope.
Hospitals across the country are celebrating National Hospital Week, May 6-12. This year's theme is "Caring is Our Calling."
From providing treatment and comfort to the sick, to offering quality care close to home, West Holt Memorial Hospital in Atkinson is central to a healthy and vibrant community.
"Hospital Week is a celebration of the men and women who support the health and wellbeing of their communities," shared Brad Pfeifer, Chief Executive Officer at West Holt Memorial Hospital.
"We are grateful for our dedicated staff and volunteers who play a vital role in delivering healthcare to our communities. Words cannot describe the impact they have on the lives of those they serve," added Pfeifer.
With approximately 90 employees on staff, West Holt Memorial Hospital provides comprehensive community-based healthcare to a population of more than 10,000 people in North Central Nebraska. Services include: 24-hour emergency care, cardiopulmonary services, diagnostic imaging, inpatient hospital care, primary care clinic, laboratory services, outpatient care, specialty clinics, rehabilitation services and retail pharmacy services.
"I am excited about the direction West Holt Memorial Hospital is headed. Our future is bright and I look forward to continually improving patient care for our North Central Nebraska communities," expressed Pfeifer.
Take this year's National Hospital Week as an opportunity to thank all of the dedicated individuals – physicians, nurses, therapists, food service workers, volunteers, administrators and so many more – for their contributions.