WHMS Annual Board of Directors Meeting Postponed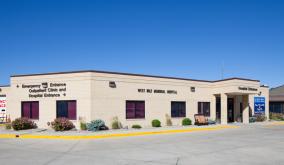 ATKINSON, NE — The Annual Meeting of the West Holt Medical Services Board of Directors, scheduled for Monday, November 2nd at 7 p.m., has been postponed. No reschedule date has been chosen at this time.
Hospital and Board of Directors leadership discussed multiple options regarding the Annual Meeting given the current situation surrounding COVID-19. They determined that, even with taking recommended safeguards such as social distancing and masking, the potential benefits of holding the meeting as planned did not outweigh the risks having a gathering of this size posed the community at large. With that in mind, the difficult decision was made to postpone the meeting.
"At West Holt it's important that we lead by example in matters of public health," said WHMS CEO Brian D. Matin, "and we felt that postponing the Annual Meeting, while not ideal, was in the best interest of the health of the community at this time of increased risk of COVID-19."
WHMS still intends to hold the Annual Meeting and will make the public aware of the rescheduled date when it has been decided.