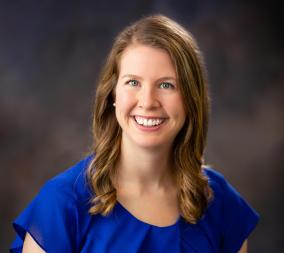 Samantha L. Sholes, MD
Family Medicine Physician
Samantha L. Sholes, M.D., is a 2009 graduate of Elkhorn High School. She earned her B.S. in Biological Sciences with High Distinction from the University of Nebraska-Lincoln in 2013, and her M.D. with honors from the University of Nebraska Medical Center in 2017.
For the past four years she has been training in UNMC's Primary Care Residency Program, which has provided her experience both in family and internal medicine. She is board certified in family medicine, and her clinical interests include healthcare maintenance, chronic disease management, and hospital medicine. Personally, Dr. Sholes enjoys reading, cooking, long walks, and spending time with her family.
Dr. Sholes' husband Michael is an attorney and is originally from O'Neill. He is a 2009 graduate of Ainsworth High School and still has family in Brown and Holt counties. The couple has a one-year-old son, Jack.
Dr. Sholes is excited to begin her career at West Holt Medical Services and to start taking care of patients in Atkinson and the surrounding communities in September, 2020.